Best Friend's Week; My message about best friends
No one seems to agree on the exact date of Best Friend's Week and I am not going to debate the exact date. Suffice to say, it's the message that's important, not the date.
I got parts of the following from one of my friends. The other parts, I found or added from other sources. My message is at the end.
If you plant honesty, you will reap trust
If you plant goodness, you will reap friends
If you plant humility, you will reap greatness
If you plant perseverance, you will reap contentment
If you plant consideration, you will reap perspective
If you plant hard work, you will reap success
If you plant forgiveness, you will reap reconciliation
So, be careful what you plant now; it will determine what you will reap later.
Think about this for a minute….
If you happened to show up on my door step crying,
I would care!
If you called me and asked
me to pick you up because something happened,
I would come!
If you had one day left
to live your life,
I would want to be part of
that last day!
If you needed a shoulder
to cry on,
I would give you mine!
This is a test to see who your real
friends are or if you are just someone
to talk to you when they are bored.
Life isn't about how you survived the storm...
it's about how you danced in the rain!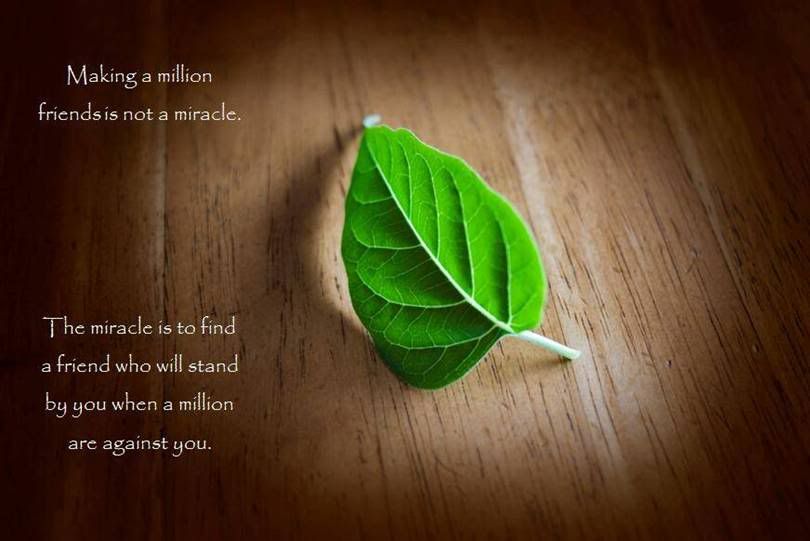 Do you know what the relationship is between your two eyes?
They blink together,
they move together,
they cry together,
they see things together,
and they sleep together,
but they never see each other;
....that's what friendship is.
My message
Let your friends know how much you mean to them - in plain simple language. A simple and sincere
I LOVE YOU
or
YOU MEAN THE WORLD TO ME
goes a long way. My best friend Catherine passed away 20 years ago this year. Her birthday is next week - October 29th - and each year on her birthday, I give thanks for having had her in my life. She showed me her love in numerous ways - too many to count but I have to mention one in particular. She knew that I used to love to read funny greeting cards in the stores and she couldn't see the point of that but when she moved away to Calgary, she sent me a funny card and told me that it wasn't the card so much that she wanted me to have but that she spent quite some time reading them and chuckling to herself because the act of reading the cards made her feel closer to me; so she learned to like reading them the way I did.
I don't have to wait for Best Friend Week to keep her in my heart. She is always there. We planted a friendship that has transcended the physical world. If you ever had or now have such a friend, let them know how much they mean to you. The seed you plant today will grow a everlasting friendship.
Just to let you know ... I Luv Ya!
sandra